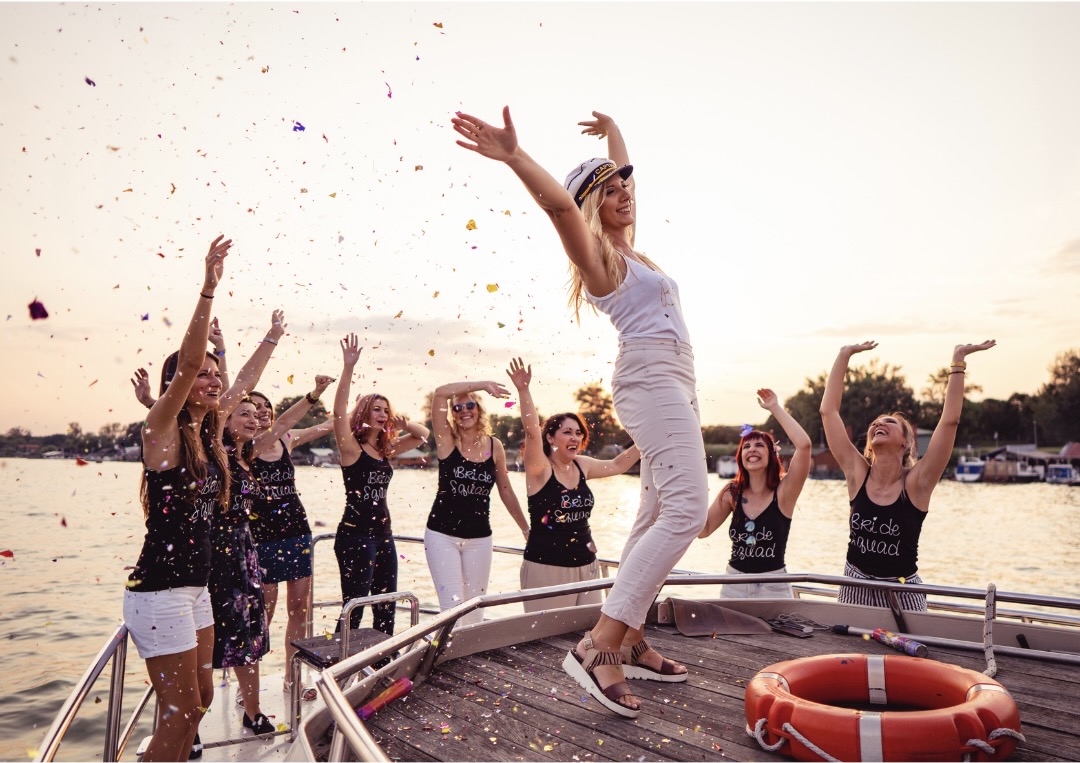 Planning a Cape May Bachelorette Party
Cape May is an awesome destination for a bachelorette party! Seriously, on any given weekend you are likely to spot at least one if not 5 or more out and about. You can always tell them by their matching shirts, or hats and of course the bride sash or veil is always a giveaway. Planning a bachelorette party in Cape May can be a ton of fun, but also a bit overwhelming. You can go so many different directions and how do you please everyone? I am going to cover a few suggestions of venues and activities, as well as where you can go to get a little extra help.
Where to Stay
Congress Hall is one of the quintessential spots to stay in Cape May, especially if you are splurging! With its central location, spa and beach service, it would also be awesome for a bachelorette party crew. Other hotel type options are Ocean Club, Icona, Beach Shack, or Lokal. If historic and quaint is more the vibe you are looking for, I suggest checking out Carroll Villa, Elaine's, Inn of Cape May or The Chalfonte. Bed & Breakfasts are also an option such as The Hugh, The Southern Mansion, Bedford Inn, or Casablanca (just a few of the many-most if not all haunted). Make it easy on yourself and book something right from my website! It you think it is going to be a bit of a rowdy event, then a whole house rental might be a better option. Grab my FREE guide to finding a vacation rental here. Don't put off finding a place to stay, it is getting more and more challenging every day!
Relaxing
The beach is the #1 relaxing activity in Cape May (in my humble opinion). If you plan on adding beach time to your itinerary, then my Cape May Beaches post is a must read.
Spa=relaxing, don't you think? And a spa visit with your entourage is even better! This is an activity that should be booked well in advance regardless of how large your group is.
The Cape May Day Spa on Jefferson Street is a great option. They have packages and escapes that combine some of their most popular services. You can also just go for a massage, facial or hydro & body therapy. There is quite a bit to choose from. All of their raving 5 star reviews don't lie!
The Sea Spa in Congress Hall on Congress Place is another possibility for a little pampering. They offer a variety of experiences, facials, messages and body treatments. Scheduling a group is easy by emailing a special request.
The Well Massage Center in West Cape May on Park Boulevard has a bit of a different slant on relaxation. In addition to fabulous messages, they offer reiki, psychic medium readings, numerology and more. Raving fans often describe their experience as calming or healing.
Shopping is relaxing for me, but I get not for everybody. If you want to add this to the itinerary, my Shopping in Cape May post will give you all you need to have a great time.
Fun ways to be out and about on land and sea…
Railbiking is a super fun activity that will definitely give you a workout and some great photo opps. It starts by the Welcome Center off of Lafayette Street and takes you to the canal and back. There are stops in between. Great way to see a little more of Cape May.
Beach Plum Farm is a lovely location to stroll around and grab lunch. Just a short drive from Cape May, it is quiet and refined with gardens and a sweet little shop and cafe.
If you are looking to get on the water, I suggest considering Tiny Cruise Line, which leaves from Cape May (near The Lobster House) or Wildwood (between Urie's and The Boathouse). You can bring a cooler with wine or beer (only) and snacks. They have several option to choose from including specialty cruises that are perfect for a unique bachelorette party event.
Along the same vein, Cape May Cycle Cruises can be a blast as well. It is South Jersey's first pontoon pedal boat. They have a very specific bachelorette party cruise (amongst other options) that allows you to decorate, blast your favorite music, dance and more. It is also BYOB and BYOF (f for food).
Dancing at Carney's on Beach Ave is always an awesome way to top off an evening!
Wineries and more…
I think it might be mandatory to do a stop at the wineries for any bachelorette party in Cape May. Instagram is full of pics taken of just that. Cape May, Willow Creek and Hawk Haven all have great outdoor and indoor seating. Willow Creek does Fire pit Fridays, which is great fun. Schedule a tasting, share a bottle, enjoy a wine flight, and grab a little food while you're at it. Please check on the individual sites for any reservation recommendations.
Ok, wine isn't your thing—I get it (sort of), maybe Cape May Brewery might be to your liking with an awesome selection of beer and seltzers. The tasting room is a ton of fun, but it often really packed. Their Brewtanical Garden is open during the day on Saturdays and Sundays from 12:00pm to 5:00pm (last call is 4:45 pm). They do not sell food (NJ Laws on production facilities), but they have a very open bring your own food policy. The Cape May Cheese Shop on Washington Mall would be a great place to find snacks to bring!
If you are in the mood for a little something stronger, there are two local distilleries that are worth a try. Nauti Spirits is just plain fun, with plenty of space indoors and out to hang out and sip a cocktail. They have some pretty amazing food trucks that stop by, but you can absolutely bring your own. Shore Craft Distillery is another place to stop for a cocktail in their cozy tasting room or outside.
All of these venues typically have live music. They are also a great place to pick up a little something to bring home for yourself or a friend.
Restaurants
There are a ton of options for dining in Cape May. From fine dining with full bars, to BYOBs to fun beachy spots that scream Cape May. Here are a couple of suggestions for each. If you want to splurge on fine dining with a bar, The Ebbitt Room on Jackson Street and The Washington Inn on Washington Street are the two top choices. The BYOB selection in Cape May is varied and impressive. We love Grana on the corner of Perry and Sunset.  Peter Shield's Inn on Beach Avenue is always a treat, but on the pricey side, as is 410 Bank Street on (of course) Bank Street. Other options in the finer dining category is Union Park and Primal on Beach Avenue. Tisha's on Washington Mall, YB on Beach Avenue and Vintage on Washington Street (at the Physick Estate). Want to really go all out? Dinner at Jardin at The Hugh on Washington has gotten rave reviews! If you are looking for casual and fun, I suggest trying The Rusty Nail on Beach, Carney's both on Beach Avenue or The Ugly Mug on Washington Mall. Frankly I just scratched the surface with my suggestions.  For a quick view of the restaurant options on Cape May – go here. I highly recommend getting reservations whenever possible to avoid potentially very long waits. Many Cape May restaurants are on OpenTable. Brunch is always fun on a girl's trip—The Mad Batter and The Blue Pig both have wonderful breakfasts and bloody marys and mimosas. For something really different, consider a bachelorette picnic by Simply Picnic. They can help you plan a one-of-a-kind picnic celebration that will be the talked about for weeks!
Bars
I am going to go out on a limb here, but most girls' getaways include at least one stop at a bar. As with the restaurant scene, bars are plentiful and fun in Cape May. Each one really does have their own personality and vibe. If you want sophisticated and dare I say classy, The Brown Room in Congress Hall and The Virginia Hotel bar are outstanding. If you are in the mood to just have some fun and get a little fresh air (and possibly an ocean view), The Rusty Nail, Elaine's on Lafayette Street (one of my personal favorites!), The Barefoot Bar at Marquis de Lafayette Hotel and Harry's at the Hotel Montreal are all great choices. For an indoor super fun atmosphere, The Blue Batter Bar at the Mad Batter on Jackson Street, Fins on Washington Mall, Boiler Room in the basement of Congress Hall or The Ugly Mug. Many have live music! Again, the list is much longer than what I mentioned, but I chose ones that were in the spirit of the occasion.
Transportation
Note: Ubers can be hard to get in Cape May, so don't rely on that for the entire trip.
Walking is probably the safest mode of transportation for a bachelorette party weekend. However, that is not always possible and or practical. Here are some suggestions of alternatives that are still safe.
Renting bikes is a great way to get around town and get a little exercise into your trip (unless you're in heels). There are so many options in Cape May that there is almost no excuse not to do it. Check out my post Ultimate Guide – Biking in Cape May for all the details. You can rent individual bikes, electric bikes, or even surrey's.
Golf carts are all over in Cape May these days! Cape May Golf Carts and Orange Moose Adventures are two great options if you want to give it a whirl.
The Cape May Free Jitney is one option and is available courtesy of The City of Cape May. It has a very specific route, and you can find its location by using The Jitney Surfer App (available on Google Play and the App Store). The service operated from 11:00 am to 10:00 pm seasonally.
Cape May Free Ride is also a frugal option, although there does not appear to be a very set schedule. My best advice if you are interested, is to call the number they have listed and see if it will work for your plans.
Renting a Jitney is the most reliable option and you can tailor your trip to exactly what you want. I have seen them out and about all over the Cape May area and everyone always seems to be having a great time wherever they are going.
A bit swankier of an option is Cape May limousine, which looks like a party bus! They also have specialty options and are definitely worth checking out. A few times, I have seen one of their buses pull up full of rowdy partiers. Kind of gave me a little FOMO.
If you event is alcohol focused (wineries, distilleries etc.), then Day Sippers may be exactly what you need. They specialize in winery/brewery/distillery tours and you can customize your itinerary.
All the Things…
Half the fun of the bachelorette party is theme, décor and festive accoutrements! Here are a few suggestions to make that part of the planning easier:
For even more great ideas, check out my companion post Top Bachelorette Party Ideas!
Writing this post made me want to get married all over again, just so I can have a bachelorette party. I really hope I have been an inspiration to any friends and family who are planning one for a very lucky bride! There really is a lot that goes into it. So, if you are feeling overwhelmed—call in reinforcements. Pop & Clink can help! Jeri Anne is a local with tons of experience, you will be in the best of hands!
If you have planned, attended or been the guest of honor (aka bride) at an epic bachelorette party in Cape May, please share some details. I would love to hear where you went and what you did!
As always, if you are not already subscribed, do it now so you don't miss out on future posts. There is so much I want to share about Cape May—please join me!
This post contains affiliate links.