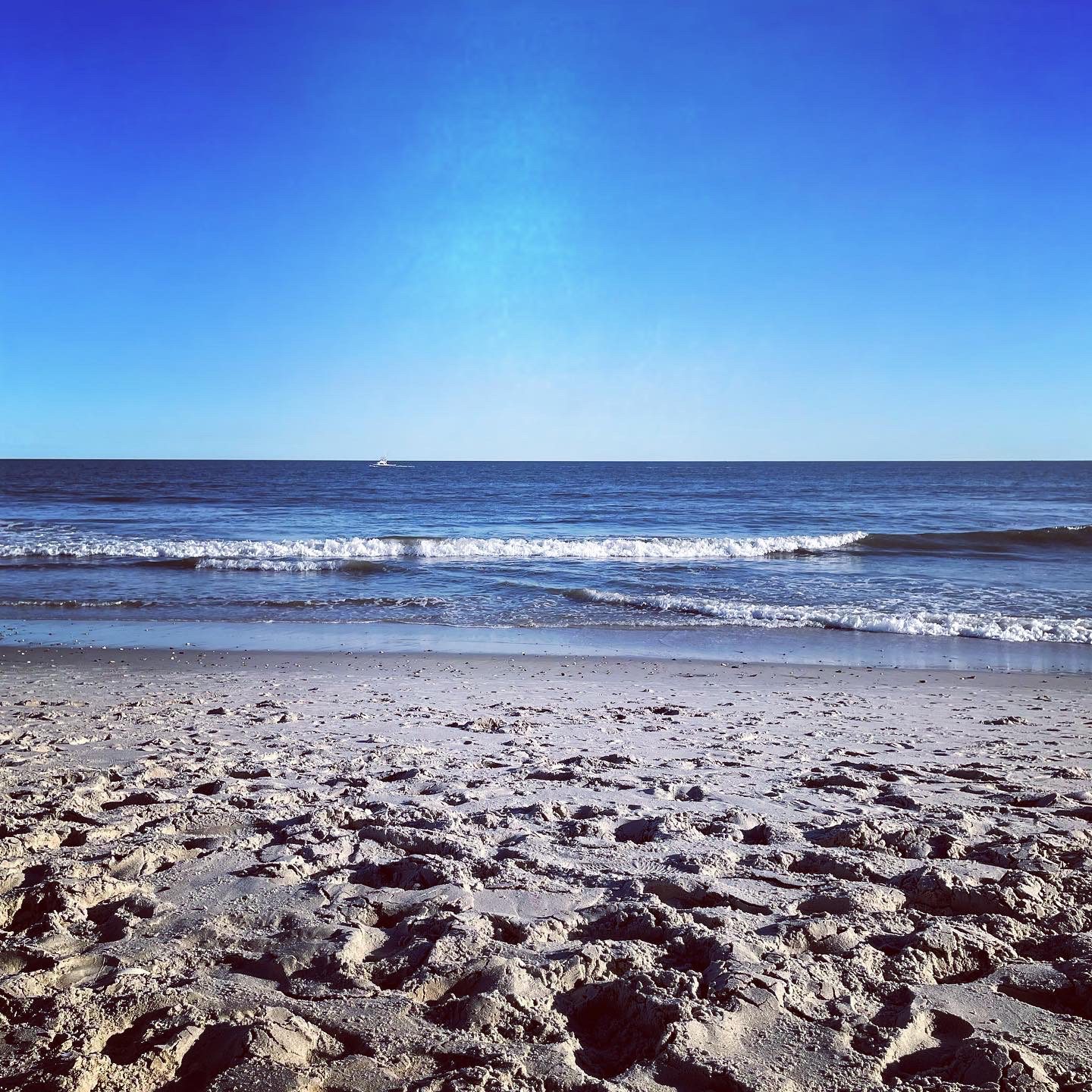 This is probably a post that writes itself. The Beaches of Cape May have been getting accolades for years and it's no wonder—they are truly spectacular! Everyone seems to have their favorite beach and can be quite passionate about it. We are partial to Grant Street beach, as it has been our go to beach for well over 20 years. Here is a bit of a run down of beaches from top to bottom in the city and beyond. Also check out my Beach Essentials post so you have everything you need before you go!
Cape May City
In the City of Cape May, there is only one home directly on the beach. Homes are across Beach Avenue from the dunes and sand. Lifeguards patrol all beaches from Memorial Day until Labor Day. Unlike some other shore towns in New Jersey, the beaches are not extremely long. I personally think it is the perfect length of walk from the dunes down to the water. They are well tended and maintained. When our son Ian was little, watching the sand crawlers groom the sand each night was big fun! The beaches are named after the streets that run perpendicular to Beach Avenue.
Poverty Beach
Poverty Beach begins at the very top of the Cape May City map and is closest to the Coast Guard Training Center. It is a favorite of many for its quiet, relaxing vibe. Kayaks can be launched from this beach and surfing is allowed. Legend has it, it got the name because it was the only beach that the servants were allowed to use back in the day.
Baltimore and Brooklyn
These are the next two beaches as you make your way down the coast. This is still a very quiet part of town with no businesses, just gorgeous private homes. It is a long walk, or short bike/car ride to most of the activities in Cape May from this beach area.
Pittsburgh and Trenton
Now you are starting to get to a little closer to a more active part of Cape May. The La Mer Beachfront Resort, The Pier House and Peter Shields Inn occupy the block across from these beaches. Angel of the Sea Bed & Breakfast is tucked in behind Peter Shields on Trenton Ave. This is also the section where more streets run parallel to Beach Avenue with lots of homes. These streets are mostly named for states, such as Maryland, Ohio, Virginia and so on. This also means it is a bit busier part of the beach.
Inferrera Memorial Beach (formerly Reading), Philadelphia, and Madison
There are quite a few hotels along this section with a sprinkling of homes. Rhythm of the Sea (We stayed there for our first wedding anniversary. I was VERY pregnant with Ian and we fell in love with Cape May), Icona, Grand Hotel, Periwinkle Inn, Ocean Club, The Capri and The Montreal line the street across from the beach.  Harry's Roof Top bar is a fabulous place to grab and drink and a bite in the summer. The promenade starts right across the street from the Periwinkle Inn between Philadelphia and Madison beach. Reading beach was renamed Inferrerra Memorial Beach in 2022 in honor of Norman (Champ) Inferrera, a teenage lifeguard who lost his life in a boating accident while on duty in 2021.
Queen and Jefferson
The section of beach has some of the loveliest homes in Cape May including the distinctive Sea Mist, likely the most photographed house if Cape May. Many of these homes were built in the late 1800's as Summer homes. Most feature lovely second story covered porches or balconies to maximize the view of the magnificent ocean.
Howard, Stockton Place and Gurney
This section transitions from residential to businesses with Stockton Mini Golf, Union Park Restaurant and the Hotel Macomber, and a section that is (as of this writing) under future development. There are also many businesses on the beach side in this area, the largest of which is Cape May Convention Hall. A few of the restaurants on the beach side overlook the ocean, which is unique in Cape May. Gurney beach is where the movies on the beach are held—more on that below.
Ocean, Decatur, Jackson and Perry
Once again, the beach side of Beach Avenue is free of buildings except for Primal restaurant and a small arcade. Our kids blew endless amounts of money in Cape May arcades over the years when they were small. We could probably have paid for at least one year of college tuition for each of them. But I digress… Along this stretch is mostly hotels/motels, restaurants, and little shops. There are several places to grab a bite to eat or a cold beer or cocktail in this neck of the beach. This section is also the closest to Washington Mall. Don't miss the old school mini golf Ocean Putt where you can golf into an alligator's mouth and watch it come out the other end. Big fun for kids!
Congress Place, Windsor and Grant
Two iconic businesses are located in this bit of the beach. Uncle Bill's Pancake House and Congress Hall. Congress Hall is set back a bit to house the gorgeous lawns and pool area, but many rooms still offer a wonderful view of the ocean. The Cape May Beach Patrol Headquarter is also here – located at the end of Grant Street. There probably is no safer beach, but the lifeguard staff all up and down the beach are amazing. This is our family beach and we love to grab food from the Ocean View Diner on our way to the sand.
Patterson, Broadway, First and Second
This is almost at the bottom of the Cape May city map. There are several motels/hotels such as Beach Shack and the Sea Crest Inn. The Rusty Nail is a super fun spot for food and drink—bonus also kid and dog friendly. There is also The Snack Shack right on the beach for light food and cold drinks. Again, as I type this there are businesses that are for sale or under development. Many of the older motels have been sold and everyone is waiting to see what will happen next.
Cove Beach
I simply adore Cove Beach. Grabbing a blanket or a few sand chairs and heading over right before sunset is magical. There is a perfect little gazebo right at the end with benches ideal for sitting and passing the time. Cove beach also allows some paddle boarding and kayaking. There is additional access to Cove Beach from Mt Vernon Avenue, via a wooden walkway over the dunes. It has been said the walkway is haunted at dusk, but that is another post.
If you really miss Cape May, you can always visit the cove via the Cape May beach cam YouTube page. You will likely also see countless people driving down and turning around for one last look at the beach before they leave.
General Cape May City Beach Info
Beach policies and rules that you need to know can be found on this page.
Parking is extremely limited and most of it is metered (May 1st to October 31st) unless find a spot down some of the side streets. Cape May City uses Park Mobile to make it easy to pay and extend your time
Very important – Comfort Stations are located at Second Street, Broadway (at the Snack Shack), between Grant and Patterson, Gurney, Philadelphia, and Trenton. The Beach Patrol Headquarters does not have bathroom facilities for the public.
There are several jetties up and down the beach that make natural shallow areas. They are perfect spots for littles to frolic and play in the surf.
Beach chairs, umbrellas, cabanas, and beach box rentals are available if you decide you don't want to shlep all of your own stuff on vacation. Steger Beach Service has got you covered with everything you could want. Need a beach wheelchair? Check out this page.
Movies on the beach are held by the City of Cape May Thursdays in July and August. They are held on the Gurney Street beach near Convention Hall. You must bring your own snacks and chair or blanket. I read on a Facebook post a couple years ago that someone actually saw Anne Hathaway quietly watching the movie next to them. You never know who you might see in Cape May!
Beach Weddings
Weddings on the beach are incredibly lovely in my opinion. Of course, there is always a risk of the weather not cooperating and the winds on the beach can get crazy. However, when it works it is amazing! Getting married on the beach in Cape May requires a permit in addition to the marriage license etc. You can find out all about the process and fees here.
Other Beach Posts
Beach Tags are required from Memorial Day to Labor Day. I have a post on that.
Hotels and Motels with beach service (chairs, umbrellas, etc). I have a post on that.
Beyond the City
Cape May Point Beach
Cape May Point Beach (by the lighthouse and state park) does not allow swimming along the beach because of underwater hazards. However, you can sunbathe, look for dolphin and fish. Pearl Beach and St Pete's Beach (also at Cape May Point) do have lifeguards and allow swimming. They are very quiet beach with tons of birds and monarch butterflies in the Fall. Typically, those who live/stay at the point frequent these beaches. Unlike Cape May City, this beach area does not have a street or promenade between the houses and sand.
Sunset Beach
Sunset Beach located at the end of Sunset Boulevard and the very tip of New jersey is famous for Cape May diamonds and the remains of the concrete ship Atlantus. It is not a soft sand beach like the others, but people flock to it for the diamonds, the fishing and to relax. The sunsets as you might imagine are spectacular. It is also worth going at sunset to watch the flag ceremony that has been a tradition for over 40 years.
Higbee Beach
Higbee Beach is a little north of Sunset beach on the Delaware Bay side, which also means breathtaking sunset views. There are no lifeguards, I have only seen a few people swim along this stretch of sand. You might catch a glimpse of the carriage horses swimming on a hot day. This is a quiet beach that is extremely popular with bird watchers and nature lovers in general. It had a reputation for being a nude beach "back in the day", but I think it is pretty tame now.
It also has a reputation for being haunted at dusk by Joseph Higbee and his dog. Folks have reported seeing a man in tattered clothes and a sash. Speaking of ghosts, you can also check out the famous ghost tracks. Century old railroad tracks that were uncovered by a nor'easter several years ago.
Well, this was a much longer post than I thought it would be. And I am sure I missed stuff too… Some of the happiest most relaxing moments of my life have been spent on the beaches of Cape May. Whether I was watching the dolphin, reading a good book, building sandcastles with the kids or walking hand in hand with my husband—it was all magic! I would love to hear about your magic moments on the beach in Cape May (keep it clean please).