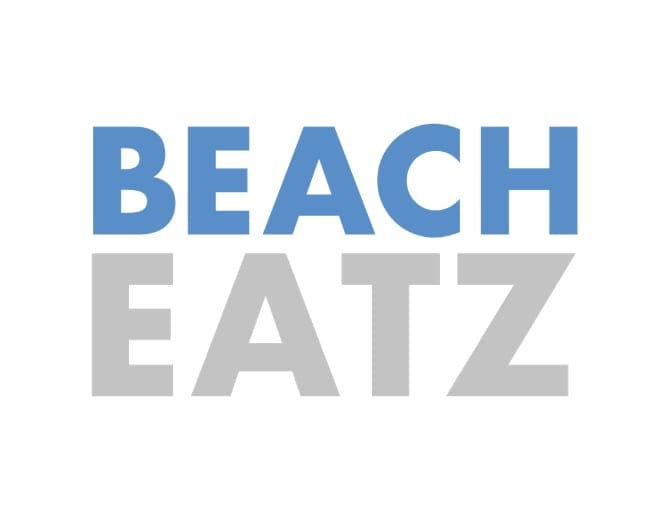 Delicious food delivered right to my beach chair? Yes Please!!!
Let me paint a picture… You are relaxing in your comfy beach chair with your toes in the sand. The umbrella above your head is tilted just right to accept the relaxing ocean breezes and gently shade your face. The day could literally not be more perfect. You are watching your kids frolic in the waves — having the time of their lives. They spent the morning boogie boarding and jumping in and out of the waves. Here they come — running toward you laughing… "Were starving!!! What's for lunch?"
You had every intention of packing something this morning. Even planned it out in your head, but in the rush to get to the beach to claim your family's favorite (perfect) spot — it just didn't happen. (I can't tell you how many times we had the very same "oh crap" moment when the kids were little.) What now? Beach Eatz – that's what! A revolutionary app that allows you to order some of your favorite Cape May food and have it delivered right to your beach chair! I personally think it's genius!
How it all started
It all began in 2017 when Bianca Picardo was relaxing on the beach with her Mom and suddenly had a craving for Hot Dog Tommy's. As she complained to her Mom that she didn't want to walk across the hot sand, all the way to Tommy's and then have to stand in line, the idea for the business was born. She reached out to friends that she knows from her days as an undergrad at NYU and within 4-5 months they built the Beach Eatz app, which is quite impressive. You can download the app right now from the Apple app store or Google Play.
The Details
The Beach Eatz app services Cape May from Memorial Day to Labor Day – 7 days a week – 11:30am-3:30pm. As of 2020, they have expanded the delivery range from just the beach to home deliveries as well (within 7 miles of Cape May). The deliveries were enjoyed by over 500 families at home during the COVID crisis.
So, what type of tasty food you ask?
Hot Dog Tommy's a Cape May institution on Jackson Street (of course—that's what started it all), but so much more.
Coffee Tyme for locally roasted hot and cold coffees and fresh delicious baked goods. They have been voted Best Coffee of Cape May for 5 years running.
Nick Fillet right on Beach Ave, but again why leave the ocean view? Nick's features a wide variety of creative steak sandwich options. Something for everyone's taste…
Cappy's Seaside Pizza and Steaks on Texas Avenue. Quite the walk from the beach… Check out the full menu in the app, but they have pasta, salad, sandwiches and more.
Home Style to Go is one of our favorites over on Sunset Boulevard. From a crab cake sandwich to a Quinoa salad there is so much to choose from.
Also on Sunset, Viggiano's, an outstanding Italian restaurant that frequently gets 5 stars on Tripadvisor.
Beef Jerky Outlet rounds out the current list if you are just looking for a snack to tide you over.
The app lists the menus of what is available for delivery per restaurant. Each menu also includes pricing and delivery info. Payment is accepted through PayPal, Apple Pay and credit cards.
Reviews
What are actual customers saying about their experience with Beach Eatz? Here are just a few of the fabulous five-star reviews taken directly from the iPhone app store:
*****They were amazing! The owner is wonderful and her employees are as well. Incredibly helpful and accommodating and friendly. Definitely recommend!
***** Never having to leave your beach chair for food is amazing!!!! Beach Eatz is a must!
*****The best place you can be with you family and friend is on the beach! Adding the element of having food delivered right to your beach spot is next level. There are so many options to eat from and the places you can get food from is legit. Wasn't waiting around all day for the food was a major plus and the food was the bomb.
For even more information about Beach Eatz and to keep up to date on new restaurants added, you can find and follow them on Facebook, Instagram and Twitter.