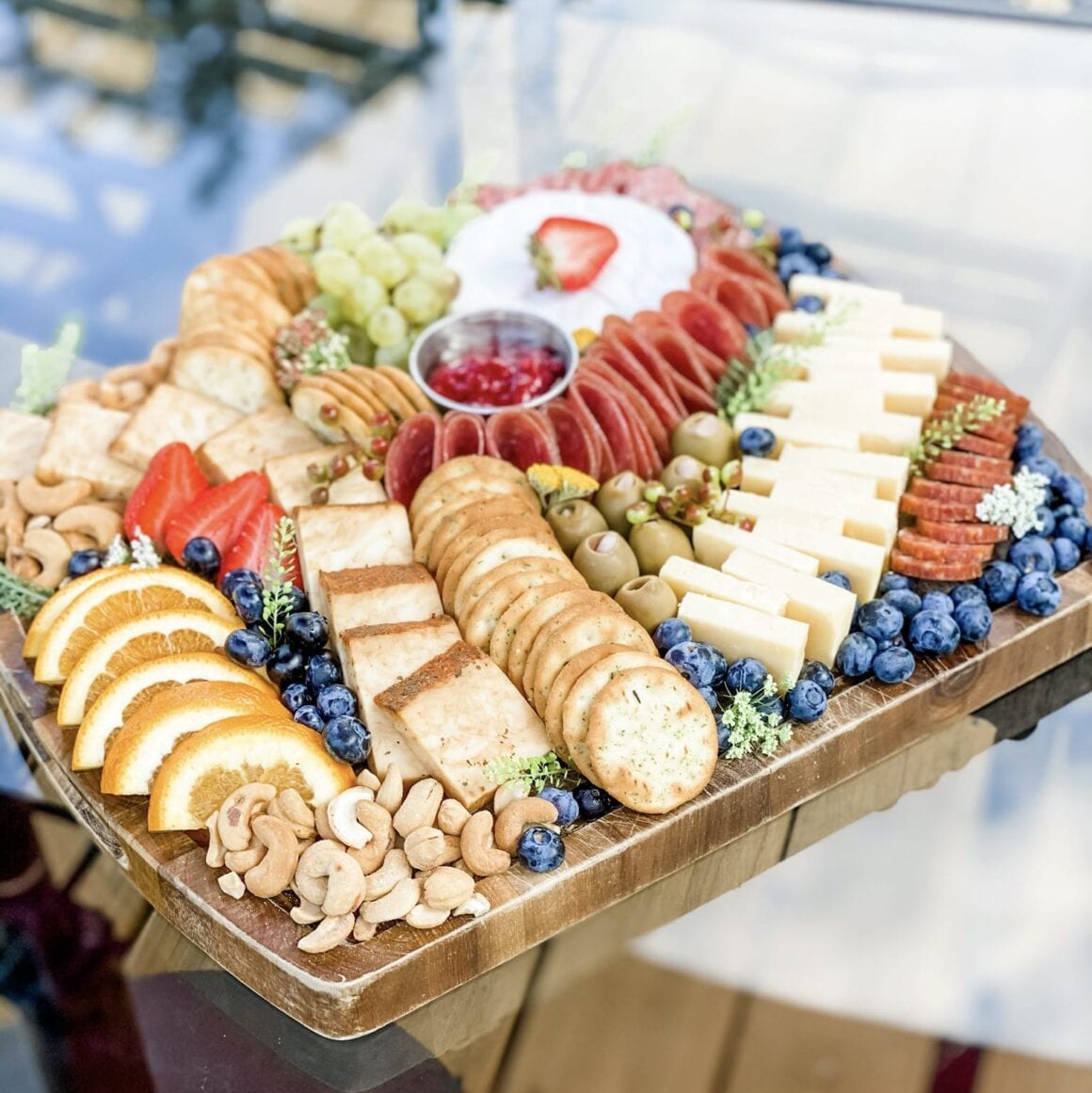 Charcuterie and Cheese-who doesn't love it?
Entertaining is one of our favorite things to do when we are in Cape May. Sharing our home with family and friends is one of our greatest joys. However, it can be a ton of work and the logistics of getting all the food you need can suck the fun right out of it. My strategy is usually to try to do some things myself and leave the more complicated (time consuming or complex) things to those who do them best. Enter Cut+Board, a relatively new (2020) business to Cape May County. They offer the most amazing charcuterie and cheese boards and boxes! Each one is literally a work of art!

Andrea+Sarah
Andrea and Sarah are the owners and creative geniuses behind Cut+Board. They were both born and raised in Cape May — it is in their souls. A love of entertaining, great food, fancy cocktails are just some of the things that brought them together as a team. They pride themselves in being farm to board when the season allows, growing their own garnishes and accompaniments. Their family consists of generations of local farmers and both Sarah and Andrea grow and raise most of their own food.
They serve all of Cape May County from Cape May to Ocean City with delivery or pick up in the Cape May Court House area all year long.

Cut+Board Offerings
They offer completely customizable, gorgeous boards and disposable boxes which range from intimate 1-3 serving boxes to Celebration boards that serve 10-12. Each contains your choice of cheese and cured meat with a carefully curated accompaniment of produce, nuts, and garnish. Check out their cheese list-there are almost 50 different ones listed! Simply fill out the form on their website to make it exactly to your liking. All orders must be placed at least 72 hours in advance.
What a great way to pull together a memorable picnic on the beach!
Special Event stations or boards can also be ordered for weddings, anniversary parties, business events etc. for over 40 guests.
All boxes can be upgraded to boards at an additional cost, but you get a little more bang for your buck as there is more room for all the yummy goodness! The boards are for you to keep and can be reused next time you order.
Cut+Board Workshops
Workshops could not be in person in 2020 for obvious reasons. Sarah and Andrea have just started workshops again. They will be hosting them, and details will be on their website. The first one is in Sea Isle City and is a collaboration with Kix bars and nightclubs read more here. Stay informed by signing up to get the latest updates, as they plan more for the coming months. How fun to learn how they craft their masterpieces and then bonus — you get to take the board, cheese, meat and accouterments home with you to enjoy later! Wouldn't it be a unique way to spend an afternoon during a couples weekend or even part of a multi-day bachelorette party?
You may be renting or own your own place. You may be staying in Cape May for a long weekend, a week, month or are blessed to be there the entire summer. Cut+Board is a great way to add a little gourmet touch to your stay and make awesome (tasty) memories!